Sofyan Amrabat to Manchester United: Could Morocco international fix Erik ten Hag's problems in midfield? | Football News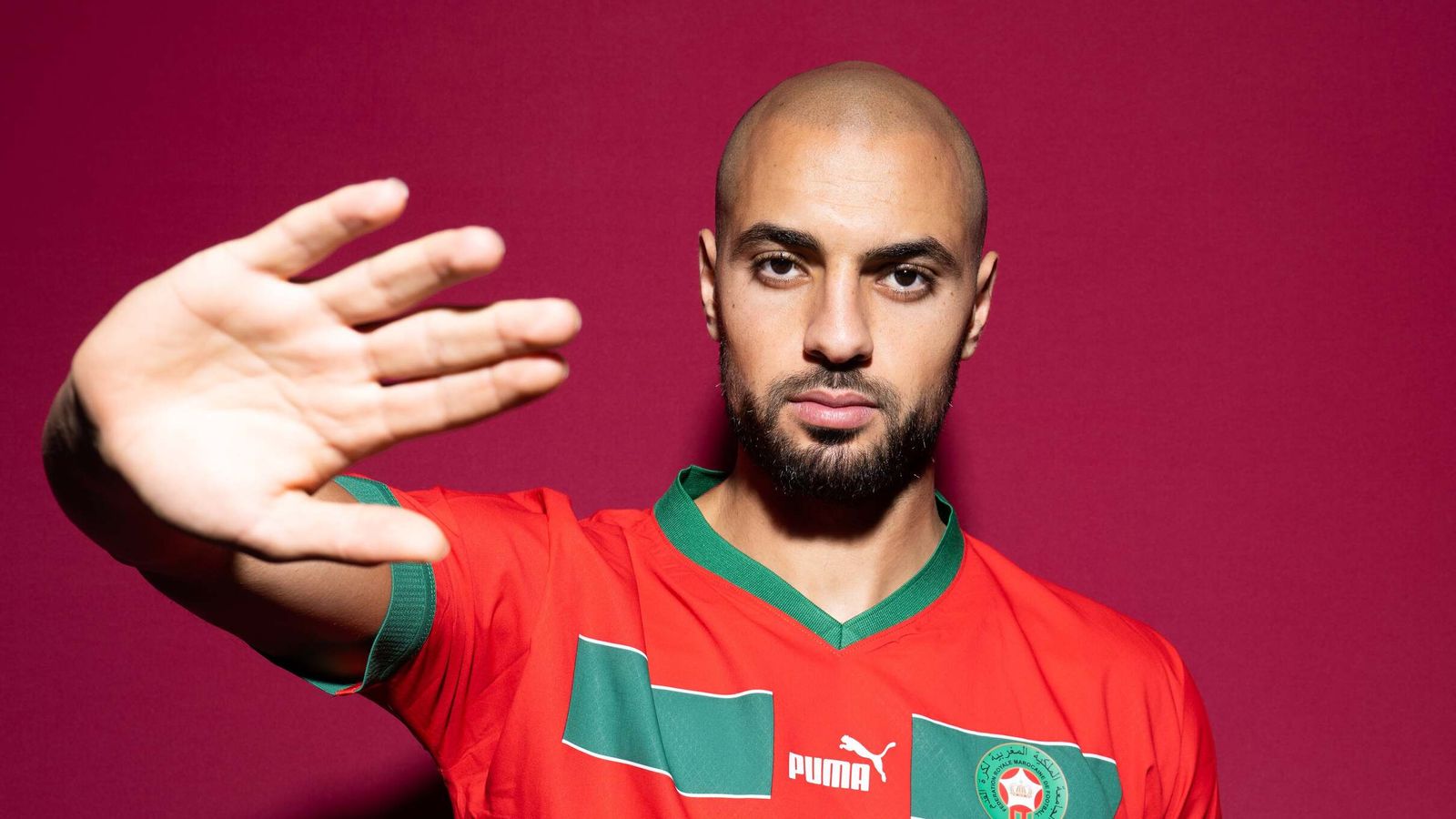 Manchester United's midfield problems have been one of the stories of the season so far. Overrun by Wolves. Outplayed by Tottenham. Mason Mount is now injured. Casemiro's form is under the spotlight. An urgent solution is required.
That answer could come in the form of Fiorentina midfielder Sofyan Amrabat. The Morocco international was a star of the World Cup, has a relationship with Erik ten Hag from their time together at Utrecht, and has been linked with United for much of the summer.
"They want to buy Sofyan Amrabat for a reason," Gary Neville told Sky Sports. "He wants everybody in the team to be able to accept the football and receive it. Sofyan Amrabat coming in, he is a passer of the ball and can sit in there alongside Casemiro."
The Monday Night Football team discuss their concerns over Casemiro's form

The Brazilian certainly needs support. The calls to restore Scott McTominay to the starting line-up are an indication that Amrabat does not have to be a cross between Roy Keane and Bobby Charlton to make the difference. United are desperate for a presence there.
There was a time when it was not obvious that Amrabat, now 27, could be that player. Four years ago, he was part of a three-man defence at Club Brugge. The turning point came when he was loaned to Hellas Verona on the proviso that he would be played as a No 6.
The making of Amrabat
It was there that he rediscovered the potential that Ten Hag and others had seen in him as a teenager. Amrabat looked different then. The head was not shaved, the frame not as robust as the one that covered more ground than any player at the World Cup in Qatar.
"The Sofyan of 10 to 12 years ago was very different to now. Not only in age or experience but also in knowledge about football, knowledge about how to be a professional. He already believed he was a top player but he was 15 or 16. That is just the beginning."
Those are the words of Robin Pronk, Amrabat's former youth coach at FC Utrecht, now in charge of the Dutch club's academy. He knows the family well having previously coached Amrabat's elder brother Nordin at Ajax. He witnessed the start of his transformation.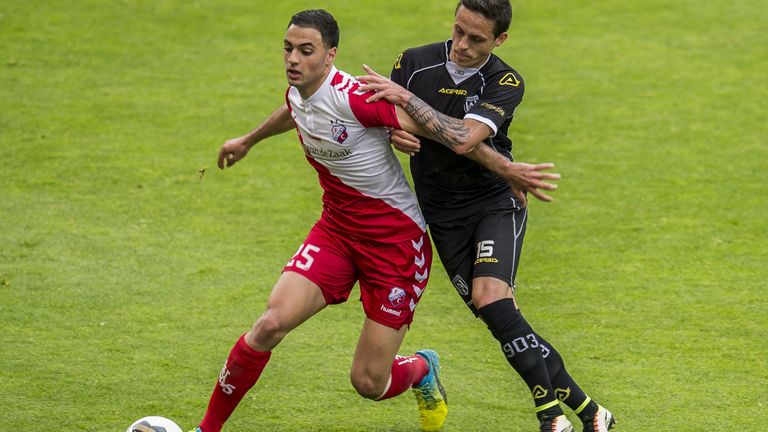 "When he came into my team in the U19s," Pronk tells Sky Sports, "he was making a big transition into a more professional way of thinking, working hard every day, preparing before training, individual programmes after training, on the pitch and in the gym."
The spotlight had been on Amrabat at a young age. A Netherlands U15 international, his switch to represent Morocco led to conversations with Ruud Gullit and Dick Advocaat. "I remember them trying to convince him to choose the Netherlands," says Pronk.
Those advances were ignored but there was one Dutchman who Amrabat did listen to back then. "He had a lot of support and attention from Erik ten Hag. In Erik's philosophy, the academy was very important. He was the coach who took him to the first team."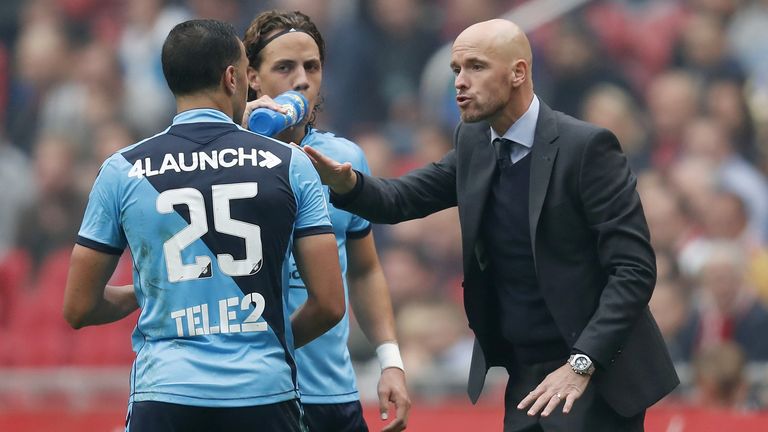 Although, as Pronk accepts, "the big success came for him in Italy", it was those two seasons working under Ten Hag that saw him graduate from prospect to professional, setting him on the path to a move to Feyenoord. "He really made it at Eredivisie level."
What sort of player was the young Amrabat? "You see now what he is showing, he is a very powerful midfield player. We discussed with him what he needed to develop because he had the skills to become a very good box-to-box player. He had that physical power."
Dharmesh Sheth on why Manchester United are delaying a bid for Amrabat

Pronk worked to refine other elements of his game too. Having coached some of the best young talent in Europe during his time at Ajax, Christian Eriksen among them, he understood the need to improve Amrabat's skillset. They studied the very best midfielders.
"I showed him a lot of video. I tried to explain to him what was required, what the top midfield players were showing at the highest level. You have to specialise in certain skills so that clubs and coaches need you. Without it, you are not special enough for the top.
"We looked at top international midfielders like Xabi Alonso and Luka Modric. Not to say that he was like them, because at that moment he was 18 or 19, but to show him that this was the level. It was to give him a mirror to compare himself with those players."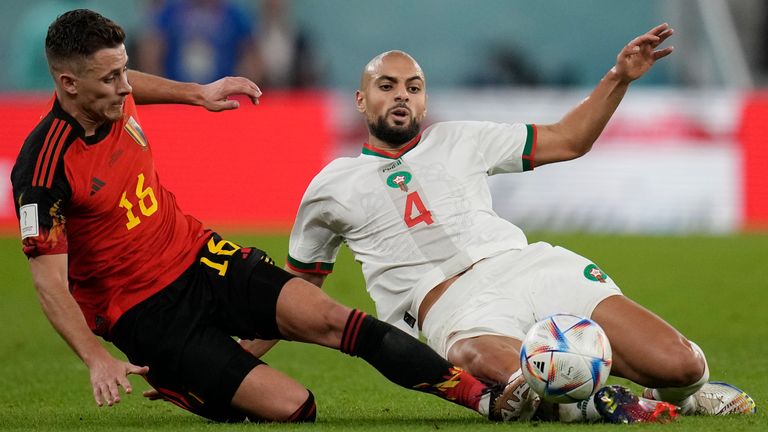 A difference maker at United?
Amrabat would go on to face Modric twice at the 2022 World Cup. By then, he had become a master manipulator of the ball in his own right. His Fiorentina team ranked second only to Napoli for possession in Serie A last season. Amrabat was among the top 10 players for passes completed in the opposition half per 90 minutes.
Adding that aspect to his game, that combination of passing and power, has taken time. "If you compare his technical ability with that of Eriksen, it is night and day," says Pronk. "But you need both in a team. The combination of those two players makes a top team."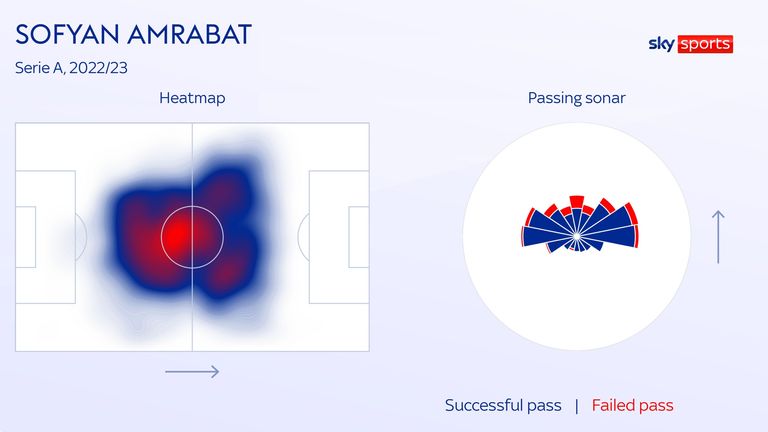 It is a quality that United are currently missing. "That is what Erik and other coaches are looking for because the Premier League is very physical so you need a lot of power, you need a lot of intensity. I think Sofyan Amrabat can bring that to the team," adds Pronk.
"I think that Erik needs his power in midfield, those box-to-box runs. In the Netherlands, we call it winning the second ball. He needs someone who can win the ball back, someone who can counter-press after losing the ball. Those are the special skills of Sofyan."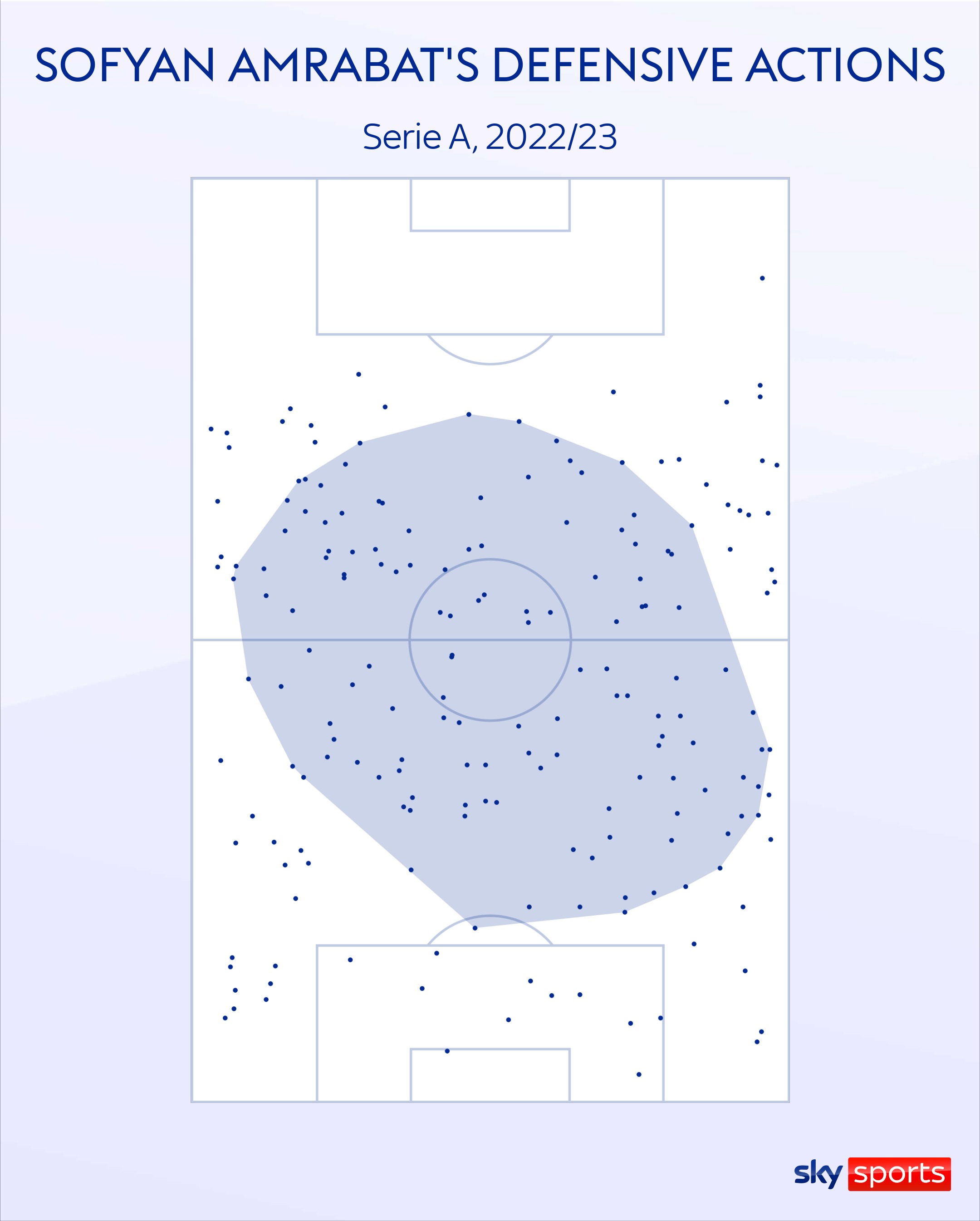 For Amrabat, a reunion with Ten Hag would see his career come full circle. For Pronk, it would be another reason for pride. "I like to work with young players and play a small part in helping them to progress. That is what you remember many years afterwards."
For United, it could be the solution to their midfield problem.