'Teenage Mutant Ninja Turtles: Mutant Mayhem' Finds Life in a New Mutation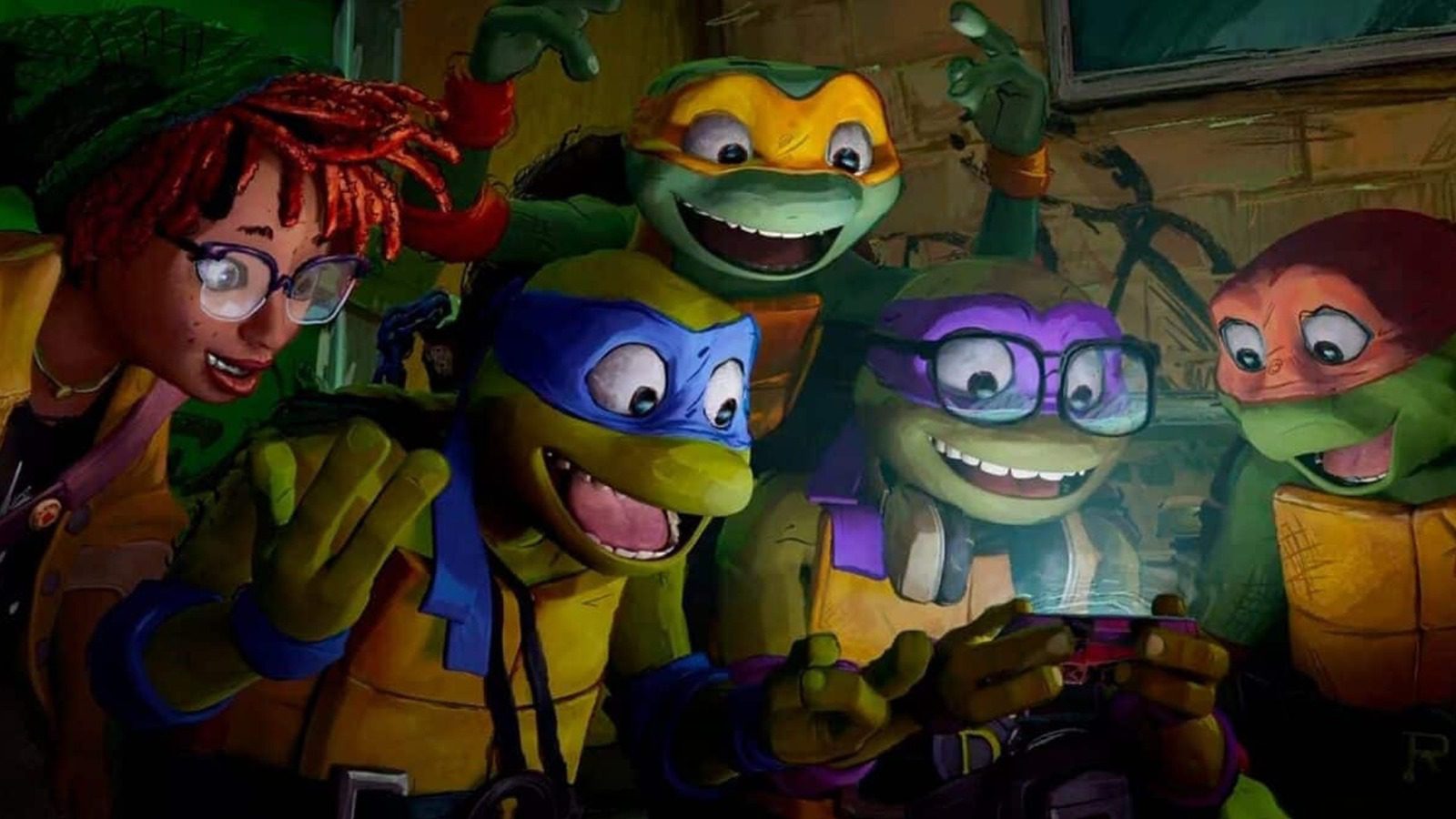 Teenage Mutant Ninja Turtles: Mutant Mayhem is another in a long line of Teenage Mutant Ninja Turtles universe. They have been reborn, rebooted, and reimagined so often that I marvel at their elasticity. They've been a part of my life so long that I can scarcely recall when they weren't around.
I've enjoyed every iteration, in one way or another, even the Michael Bay version with Megan Fox as April O'Neil, because honestly, that's just perfect casting right there. But Jeff Rowe and Kyler Spears bring the Turtles a fresh innocence and childlike earnestness.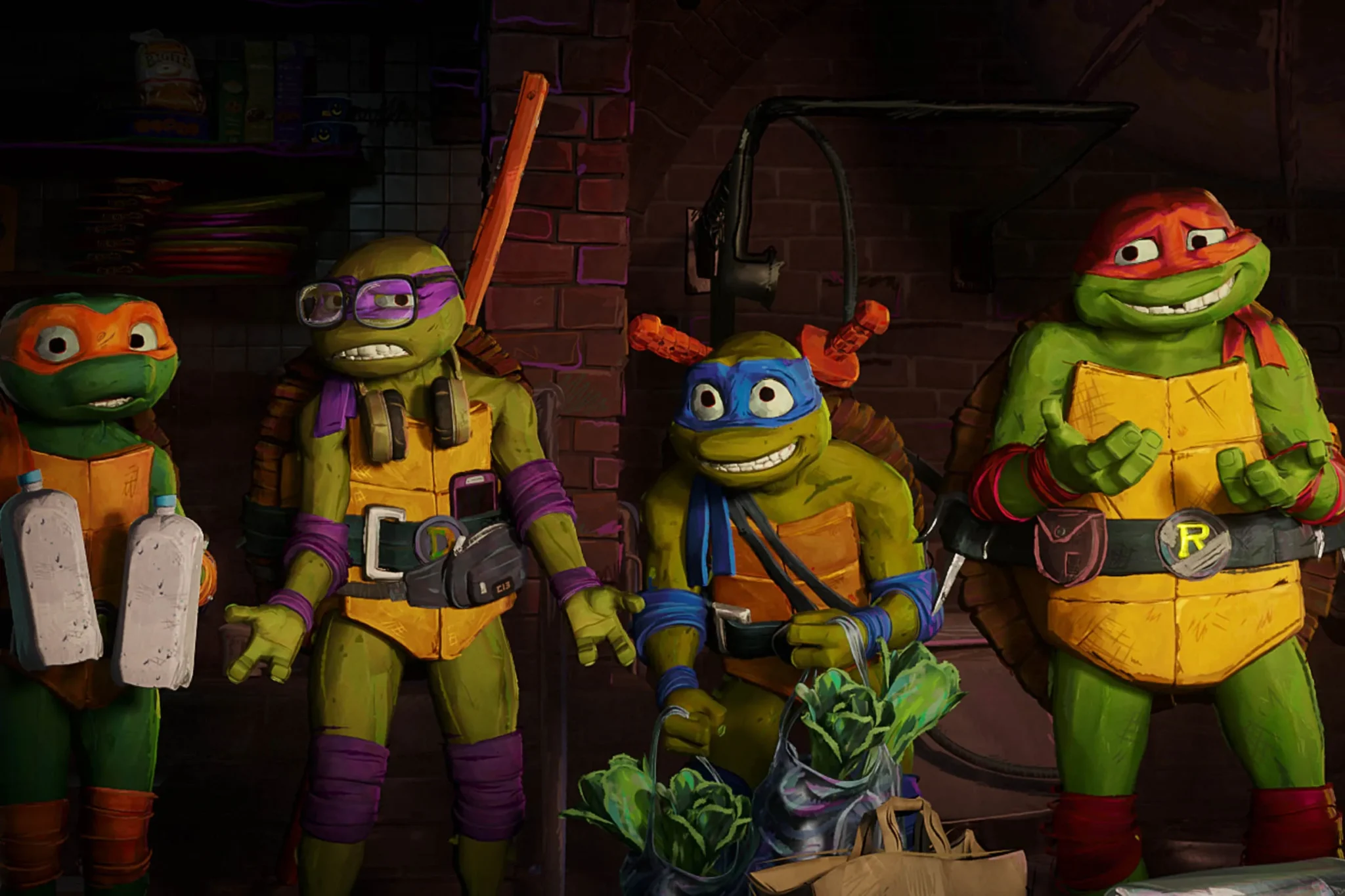 Donatello (Micha Abbey), Michelangelo (Shamon Brown Jr.), Raphael (Brady Noon), and Leonardo (Nicolas Cantu) have always been teenagers. It's in the title. But over the last couple of iterations, there has been a focus on making them more childlike, a far cry from the adult satire from whence they were born.
Mutant Mayhem leans into this aspect, making them less heroic but ultimately making their heroism mean more. They're yearning to explore and engage with the world around them, being a driving force, as it typically is, but here it comes from the hunger of youth. Splinter(Jackie Chan) fears for them, knowing all too well the dangers the outside world and people hold for outsiders who look and act differently.
Rowe and Spears understand the characters' joy in how they chatter endlessly to each other, unafraid of seeming dorky or silly. The script by Seth Rogen, Evan Goldberg, Dan Hernandez, Beni Samit, and Rowe is filled with the kind of dialogue that feels effortless. Part of this is because Rowe and Spears encouraged the voice actors, themselves teenagers, to riff and improv, giving the Turtles personalities that feel modern. Sometimes, I had no clue what the slang was, but being someone who loves how alive and musical language can be, I was more delighted than alienated. 
The main thrust of Mutant Mayhem is a familiar one. The Turtles want to spread their wings, Master Splinter wants them to remain hidden and safe, and then the villain comes on the screen, and the Turtles must save the day. Only here the writers have done something genuinely novel. The villain, for once, isn't Shredder but Superfly (Ice Cube). Superfly is the creation of Bater Stockman (Giancarlo Esposito), a genetic mutation hiding from humanity like the Turtles.
A family that includes the classic warthog and rhino duo Rocksteady (John Cena), Beebop (Seth Rogen), the skater boi Mondo Gecko (Paul Rudd), the signing stingray, Ray Fillet (Post Malone), Ghengis Frog (Hannibal Buress), an Australian crocodile named Leatherhead (Rose Byrne), and mutant bat Wignut (Natasia Demetriou). Superfly and his gang are the mirror image of Splinter and the Turtles, with Superfly in the father role.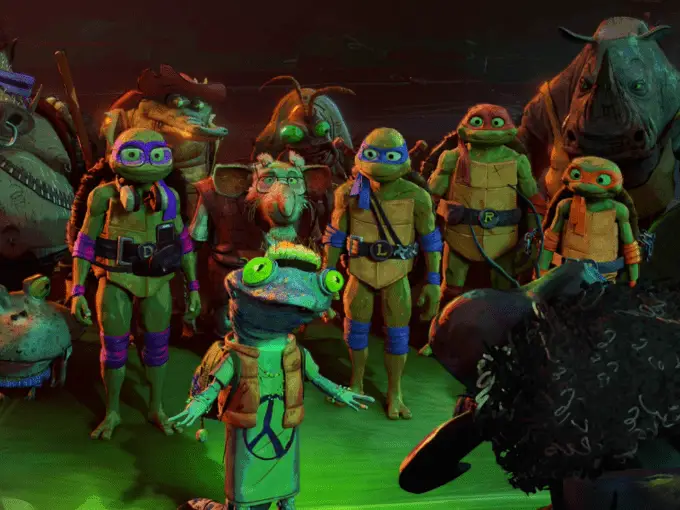 But the movie's heart is the new April O'Neil, voiced by the immaculately talented Ayo Ederbi. Her April is a shy but observant guide for the Turtles through the world and High School. Navigating her issues and Leo's crush, April isn't a damsel in distress. If anything, she saves the Turtles once in a while.
Still, as much as I admired Mutant Mayhem, I couldn't help but feel the film got bogged down in repeating itself repeatedly. It doesn't kill the movie but lessens the initial joy and fun it effortlessly creates. At the same time, I appreciate how Superfly and his goons have an arc.
The Turtles are in awe of Superfly. He's living the life they want. It's not until he reveals his plan to destroy all humans that they think he might be teetering on the edge. This also allows Superfly's henchmen to realize that they don't want to kill everyone, as well as Splinter realizing that his words of warning about humans and Superfly's are eerily similar.
Rowe and Spears infuse a sense of playfulness with the watercolor aesthetics of the animation. Sometimes, it feels almost like Will Vinton's claymation with how the characters are designed. If nothing else, the energy and the way it moves and breathes with the action makes Mutant Mayhem so engrossing. The action moves with a grace of animation and the imperfection of childlike enthusiasm. 
Mutant Mayhem isn't perfect, the narrative cycle gets repetitive, and the politics can be a little clunky with the simplistic trope of the rhetoric of both sides being effectively the same. But it's fun and inventive in a way the Turtles haven't been in a while. It paints a clever picture of the family dynamics and the toll being a mutant outcast can take on someone. 
The humor is sometimes witty, bordering on surrealism. There's a clever running gag about Splinter about the Turtles being milked by the humans that keeps escalating until it reaches absurdity. The jokes are juvenile, but that's fitting, considering so are the Turtles themselves. But overall, Mutant Mayhem works and does so in a way that's charming despite its narrative wrinkles. 
Images courtesy of Paramount Pictures
Have strong thoughts about this piece you need to share? Or maybe there's something else on your mind you're wanting to talk about with fellow Fandomentals? Head on over to our Community server to join in the conversation!